Socially Distanced Experiences
How can you create physical experiences and interactions that matter in a socially distanced world?
Live experiences have always been great at delivering impact and engagement. The question I'm being asked by my clients right now, is how they can re-imagine their event ideas and continue to deliver that brand experience to create meaningful connections with employees and customers in this new world.
We know that advertising drives awareness, but experiences that engage and inspire, drive brand love. The rules have changed but the underlying principles should remain the same.
With that in mind, I've had a look at the five most popular styles of events that we work on every year, to re-imagine how these could look now without compromising on genuine depth and quality engagement. As event organisers when we think about virtual meetings, it is important to remember the buzz, interaction, and above all, the experience that is so valuable in the world of 'live'.

1) Automotive Conferences
Traditional experience: Employees would attend in person for a day of focused meetings in a large event space, see new products and forecast sales and targets for the coming year.
Experience re-imagined: Bring the focus back to the product. With all the discussions around the resurgence of drive in movies, the car here could truly be the star!
Delegates arrive in their vehicles and experience hands on learning in guided driving breakout sessions, lunch could be collected from a drive-through and content delivered on a large screen with speaker sessions broadcast through pop-up radio frequencies or silent disco headsets.
When hosting a virtual event, we can re-think lengthy conferences where large groups of employees can easily lose focus on the key messages. By providing short, focused sessions employees are more effectively engaged and revitalised with an experience to remember.

2) Product launches
Traditional experience: Guests are invited to be the first to see a new product. Often highly innovative events, with excitement from a high production reveal and a chance to chat with product experts, washed down with a glass of champagne.
Experience re-imagined: Let the guests get hands on and bring the experience into their front rooms. Guests are delivered a locked box with a countdown clock ticking..
Guests dial into a live stream with the product reveal, and all boxes open at the same time, giving the guests a sense of unity with a collective experience.
The product unveiling can still bring the exciting production-led reveal (filmed considering social distancing), reinforced by the contents of the box which could include kinaesthetic representations of the product; sample materials fashioned as guest gifts for example.
Have breakout sessions where the guest can chat and ask questions to the product experts. By keeping these groups small, the guests will achieve more 'face to face' time with the expert and feel that they are being immersed in a behind-the-scenes experience.

3) Experiential activations
Traditional experience: Create a pop-up experience in a high footfall area where people can interact and learn about the product. By thinking outside the box, these wow factor activations engage people to amplify the product, by sharing on their social channels or registering to learn more.
Experience re-imagined: Focus on the individual with a bespoke, personal experience. By using targeted email campaigns, digital advertising and eye-catching social posts, drive sign ups so the guests book a 1 on 1 video appointment. This appointment can be flexible, bite-size and fit into the individual's working day.
Depending on the product, we could utilise different engagement tools, from an unveiling and deep dive with a product or keep the experiential ethos by developing an exclusive game or engaging video. Event design is just as important here but applied differently, think cinematic style experiences to leave individuals engaged and excited. This is deliverable on large scale but is still a personalised experience for the individual, creating a wow moment and shareable content, plus the option to sign up to receive more information, tailored to their preferences.

4) Awards shows
Traditional experience: Guests arrive to walk the red carpet, be treated to a five-star dinner, and receive recognition for their achievements – often with a trophy from a celebrity host!
Experience re-imagined: Give the winners and nominees the recognition they deserve, virtually. Keep the glamour with a bespoke video conference step and repeat background for photos encouraging guests to dress up and provide an 'award show in a box' with programmes, goody bag and five star catering for guests to heat at home.
Guests dial in to a celebrity hosted event with engaging video content to recognise the achievements of the nominees. Virtual drink receptions in break out rooms for each category, with a celebrity host, give the guests a chance to chat in smaller groups with the other nominees. This also allows for great screenshots for sharing on social media and creates a buzz on the event hashtag!
One step further, our winners could be rewarded with a nudge to open their front door or look in their garden, and a special guest could be there with their trophy! The guests watching from home would see the real time camera feed and feel the guest's reactions from afar. Or, alternatively, winners get one on one time with the celebrity host virtually, just as they would in the traditional experience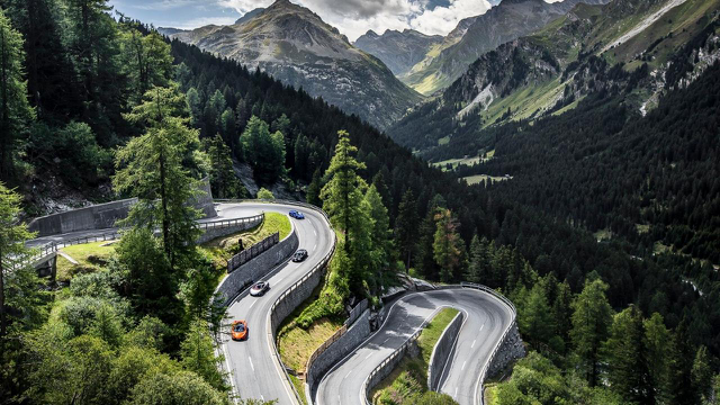 5) Incentive reward trips
Traditional experience: Top performing sales staff would receive a thank you experience ranging from team bonding style nights out to five-star overseas trip away.
Experience reimagined: Reward employees with a 'love where you live' focus.
This could range from hosted wine or gin tasting happy hour kits sent to teams to say thank you using a virtual platform, to a drive experience day which can be achieved with social distancing. Guests can pick up their vehicles to drive on an exciting circuit in their country led by a pro driver using radio communication, or go on a geo-cached adventure, driving from one point to the next in convoy, leading to an exciting reward and creating social content along the way.
Incentive trips have always required a bespoke way of thinking to create unforgettable experiences. This can be tailored now further, repurposing budgets to reward and recognise your employees.
Whatever the event that you used to run, there's a way to create the same experience in a socially distanced world. If you'd like help or advice, get in touch with one of the Blueprint team.