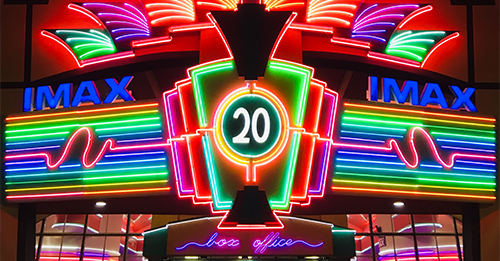 We asked entertainment specialist and film lover Denise Parkinson to tell us why she feels film can deliver the best experiences.

The cinema or movie theatre to me has always been my church. The communal experience of watching a movie together in the dark has and still is, one of my greatest joys in life.
As a kid I would got to Saturday matinees weekly and watch John Wayne westerns, Elvis Presley movies and musicals like My Fair Lady. It was the most magical place in the world. I would watch double bills that I never wanted to end. From that young age my love for going out to the cinema was sealed.
As I grew up movies went from being just pure entertainment and escapism to vehicles that changed my perspective, educated and inspired me. My last year of elementary school in the summer, a gang of us went to see Jaws. I was blown away. It is still one of my all time favorites. I will never miss a screening of it and still think it is so incredible as the first time.

After the summer, I went to high school. I had a teacher who taught Social Studies and History, she took us all to see The Sorrow and the Pity, a documentary on the holocaust. It made an impression on that was so powerful. There is something about a film that a book can never convey - seeing the moving image, the voices, the music. I started seeing a different side to the world - dark and troubling.
My teacher did a good job by taking us to that movie - it was a powerful way to learn. Throughout high school, I started to delve deep into foreign language and art-house films. I discovered the French New Wave with great masters like Truffaut and Italian cinema with classics from Felleni, Bertolucci and Visconti. The first time I saw Death In Venice, I could not speak for hours after. I also discovered American independent filmmakers like Spike Lee, Robert Altman and David Lynch. My mind would never be he same. These experiences that all happened in the picture palaces were profound, life changing. I loved film so much - it is all I wanted to do.

These movies inspired me to study acting. I then went on to work in marketing and distribution when I first arrived in London in 1990 for the legendary, Palace Pictures (run by Nik Powell and Stephen Woolley), they would go on to produce, classics like The Crying Game and Scandal. Fast forward 30 years and I can look back at a wonderful and long career marketing and promoting movies for the like of Walt Disney and Universal. I have worked on a lot of movies. I love them so much it does not matter if it is Vin Diesel in Fast and Furious or a small first time female Arab director like The Perfect Candidate. I love them all. I love watching them all where they were made to be watched - in the dark in a cinema.
To quote a gem of a movie called Grand Canyon, the character played by Steve Martin tells a colleague who is upset - "you should go to the movies more often, all of life's questions are answered in the movies".

Our thanks to Denise for sharing her love of film experiences with us. Blueprint are here to help engage your customers through experiences in all their forms. If you need help or inspiration, get in touch.