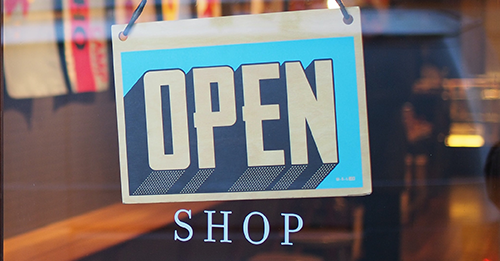 We asked Retail Marketing specialist Amy Pearson, to share with us why she thinks retail can provide memorable customer experiences.

Ask me what my hobbies are, and I struggle a bit. I don't have many traditional hobbies and instead one of the things that I genuinely love in life is a good old mooch around the shops. To say that my passion is shopping and that I genuinely love retail may sound materialistic.
But it's not just the physical act of buying stuff that I love. It's the experience of shopping, the emotional feeling it creates, the memories it invokes, the hope and expectation. The freedom of whiling away an afternoon, lost in your own thoughts, people watching.
Online shopping is convenient and brilliant (when it works properly) but for me, it's not the same as the real life, physical thing. The excitement of a rummage, of knowing that you might just be about to discover something in a shop that makes your life that bit more convenient, makes you feel good, solves a problem.
The buzz you get when you find a new product that will bring a bit of magic to your life or will keep your kids entertained for more than half an hour. The thrill of finally discovering that hard to find item in your size, hidden at the back of a rail, when it's been sold out online forever and going for 3 times the price on eBay. It's the people you meet along the way, the friendly customer service person with some great advice or the fellow shopper who stops to tell you the item you're trying on does indeed look good when you're unsure.

I've always loved shopping. When I was growing up, shopping was how you spent your Saturday afternoons, meeting friends in town, listening to the newest albums in Our Price and spending your hard-earned pocket money on fruit shaped soaps in The Body Shop. Shopping was quality time with my Mum, chatting away over an ice-cream pit stop, sandwiched between finding a dress for the school leavers ball and buying a birthday present for someone.
One of the things I love most now about being a Mum is being able to take my daughter to Westfield for an afternoon. It's fun girl time together, a sense of pride as I watch her develop her own style and learn for herself the value of money. Physical retail is more than stuff. It's experiences, interactions, memories, people, sounds, and senses. I love it and I will forever be as loyal to the experience of an afternoon shopping as my husband is to his football team.

I've dedicated my career to retail. I started as a Saturday girl in a local village craft shop, but my 16-year-old self dreamt of working in Topshop, at the time the coolest shop on the high street. When I got a job there, I felt like I'd made it! I got such a thrill from seeing the new season stock arrive or helping girls pick their perfect Saturday night outfits. That Saturday job, like for so many of us in this industry, was the stepping stone to something bigger and I've gone on to work in Marketing roles for some of the best loved brands on the high street, and internet, including Disney Store, Gap, Topshop and Topman.
And I've been lucky that my roles have been about making retail even more 'experiential' through in store events and initiatives that engage customers and create brand loyalty. There have been fashion shows, appearances from some of the biggest names in film and music, after-hours parties and more store openings than I can remember. But every day moments can be just as brilliant. New stock arriving marking the start of a new season, a freshly replenished and cleaned shop floor after a busy weekend's sales and the launch of the Christmas windows.
But retail can be brutal and those of us that are wedded to this rollercoaster industry know only too well how it must change to survive. I honestly believe the high street will always be important despite the challenges it faces. Retailers need to have a point of difference and be able to tell their own unique story in their own unique way. Stores need to transport us into a world where we want to go and spend time, escape from the real world.

Disney Store is a great example and the high street would be a sadder place without them. Everything about it gives you a taste of being in a Disney theme park. From the songs playing, the film clips on the giant screens, the cheery 'Cast Members' with extensive Disney knowledge, the opportunity to be the kid who opens the store each day. For all my memories of working in retail, nothing comes close to beating the look on kid's faces when they walk into a Disney Store for the first time.
I genuinely believe that any shop can achieve this if they tell their own story in the right way. I do a happy dance inside every time I walk into my favourite stores (hello Selfridges!). So to my beloved shops, 'you do you', and do it better than anyone else. And love me as a customer as much as I love you. Because, get it right, and the shops are where memories are made and magic can happen.

Our thanks to Amy for sharing with us her love of retail. Blueprint help businesses create experiences at every stage of the customer journey, if you need help with your retail experience. Get in touch.