A love letter to radio experiences for Electric and Auto

Adrian Last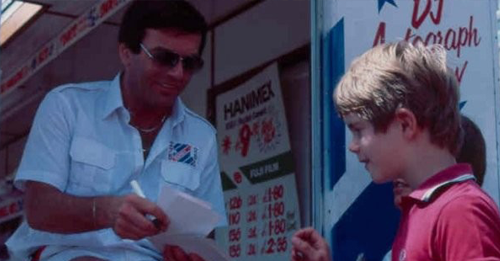 "Is cotton wool made of cotton or wool?" That throwaway question was the end of one of my links when presenting on a UK radio station. The phone console lit up, all lines were flashing, and each caller was telling me what they thought it was made of. Well, I wasn't expecting that!
Later in the show, it was a "winning weekend" giveaway. Nothing big but we still couldn't answer every call, as so many people were joining in.
These examples are just two of many that gets to the heart (no pun intended) of the wonderful world of radio. A world I have loved being part of since the days I listened to Tony Blackburn doing the BBC Radio 1 Breakfast Show. That experience of listening to how he put his links together, how he got listeners calling in, the jingles and all the brilliant music, was an experience that sums up what radio is all about. I joined a local hospital radio station at the age of 14 and my radio career kicked off!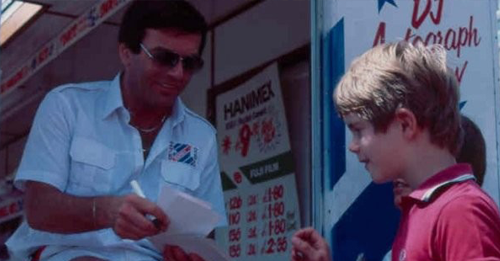 Meeting Tony Blackburn at the Radio 1 roadshow.
Over the last 30 years, I've had so many brilliant experiences courtesy of radio. When presenting on-air, it's just breathtaking how many people listen, interact, turn up at the studio door(!), talk to you in a shop, want to hear what it's like. In the early days on hospital radio, it was lovely to receive the occasional letter from a listener saying what a difference my show had made to a fairly lonely and worrying time in hospital. Those were the special ones.
As a child in the 80s, I marvelled at the Radio 1 Roadshow -for those outside of the UK, a 6 week tour of the UK's premier beaches and parks with an OB truck and a live radio show .with the thousands of people that flocked from all over the place to get their radio experience in the flesh as well as in their ears.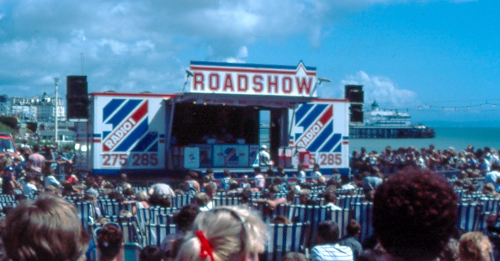 The Radio 1 Roadshow
Technology has meant that things have moved on a bit since the 80s with so many more ways for listeners to engage with the radio experience. Stations have apps, multiple spin off stations, big name star DJs, 'event' experiences like Radio 1's Big Weekend or Capital's Summertime Ball. Put that together with all the social feeds and there is a far richer experience to be had with radio in 2020. And it just keeps getting better.
In the UK, where I'm based, there's so many opportunities to get involved… from Ken Bruce's Popmaster (yes, I was a contestant a few years back!) to Roman Kemp's Secret Sound, Greg James' Better Days Quiz to Heart's 30k giveaway, radio has never been in a better place.
As a listener, we can choose to actually interact on-air, or join thousands playing along at home. It's no longer about 'broadcasting' from station to listener, it's now much more of a two-way experience. As a listener, I can choose to engage as much or as little as I want. And, if I sign up and give my details to station apps, they can give me an even better experience, targeting ads and, in the case of many commercial stations, removing some of them completely. It's a value-exchange isn't it. As a marketer, so I'm fascinated with all the rich insights I get about my precious listeners (where stations can ultimately sell even more ads), exchanging some personal data for some extra radio goodies.
Despite increases in the popularity of music streaming services such as Spotify and Apple Music, at least 90% of households listen to radio at least once a week in the UK, Sweden, Poland and China ('The International Communications Market, 2017).
Radio is not just back in the spotlight… it never came out of it. After the birth of many different independent stations with different brand identities all over the country, it feels like the industry has got its act together. Don't get me wrong. As a Kent lad, I loved Invicta FM, Mercury and others. And whilst it's sad to see the job opportunities shrinking for presenters, there is far more thought, strategic vision and brand focus, which ultimately gives listeners a better experience, and advertisers more return on their investment.
According to the latest figures from Radiocentre, 36m listeners tune into commercial radio in the UK each week, which provides a compelling reason for advertisers to, well, advertise. It's such an immediate medium, as I've found as a presenter, and businesses can turn around ads super quickly. Value is good too, delivering £7.70 revenue on average for every pound spent (Radiocentre). So, radio is a great experience for thousands of businesses as well.
Where will this love affair with radio go next? One thing's for sure, it's here to stay, providing a familiar voice, entertainment and education for all who want to listen. For me, my experience -no… my love -for radio continues, not just as a presenter, but with the weekly show that my two daughters are presenting for the local hospital children's ward. They love it, the local kids love it, and they just won a National Award recognising their achievement. It's a brilliant thing to do together, and my experience just gets better.

Our thanks to Adrian for sharing with us his love of radio. Blueprint help businesses create experiences at every stage of the customer journey, if you need help with using radio to create a customer experience.

Get in touch.